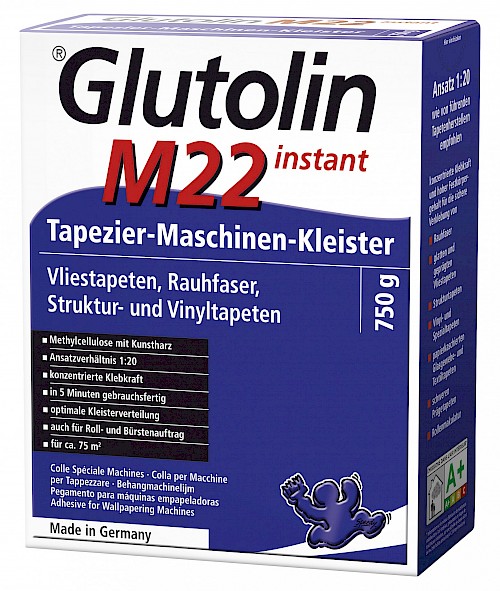 Glutolin M22 instant – 300 g
Versatile adhesive for pasting machines for the secure bonding of all kinds of standard wallpapers. Ideally suited for all kinds of woodchip wallpapers, smooth and structured non-woven wallpapers, embossed (even heavy) wallpapers, vinyl and special wallpapers, laminated glassfibre and textile wallpapers and lining paper on rolls.
mixing ratio 1: 20 (as recommended by leading wallpaper manufacturers)

 high-quality methyl cellulose with synthetic resin

ready for use in 5 mins

concentrated adhesion

secure bonding of edges

pasting-machine-oriented flowing properties

optimal paste distribution

high moisture resistance

also suitable for application by roller or by brush
Article number: 063201074
EAN package: 4044899632016
Package size: 300 g
Consumption calculator
The actual amount needed may vary.